YURI / Matcha Powder
RM9.00 – RM189.00
---
Artisan Green Tea Powder
YURI is our definition of a true classic. Proudly crafted and harvested in the sunny meadows of Mie, this Yabukita cultivated green tea is a gentle introduction to exploring the depths of our selection of artisanal Matcha.
The experience unfolds with a delightfully soothing blend of savoury umami and deep, grassy notes of crisp vegetation, before finishing off with traces of gentle bitterness and tea astringency.
---
---
---
Best For
---
Tea
Latte
Baking
Pastry
Dessert
---
---
---
Origin
Mie, Japan
Tea Cultivar
Yabukita
---
---
---
TASTE PROFILE
Grassy/Vegetative Note
---
Umami Savoriness
---
Tea astringency
Click to Compare Matcha Series
---
---
---
Client Reviews
★★★★★
"…the best Matcha in Kuala Lumpur."   –   Ladurée Malaysia
★★★★★
"Our Matcha Burnt Cheesecake is made in partnership with premier matcha brand, Niko Neko Matcha, each bite promises rich flavor of fine-grade Matcha."   –   The Tokyo Restaurant
★★★★★
"Niko Neko offers aromas and fragrance that I have not come across in other Matcha teas."   –   Shawn Chong, Omakase + Appreciate Bar
---
---
---
Niko Neko Iced Matcha Latte recipe
---
---
---
---
SHIPPING
Peninsular Malaysia: RM10
East Malaysia: Price shown at checkout
International Shipping: Price shown at checkout
Free In-store Pickup
Choose FREE in-store pickup at Niko Neko / The Concept Store (Bangsar or Chinatown) during Checkout
---
---
---
FREE GIFT
Receive Limited Edition Gift with each order:

1. Special Recipe Card
2. Niko Neko Stickers
*while stock lasts
---
---
---
FOR BUSINESS USE?
Whatsapp Us Now For Wholesale Pricing
(Click Button Below)
Click button below and it will take you directly to your smartphone's Whatsapp:
---
---
---
Order
Online Order (Click Button Below)
Order Processed & Shipped Out From Facility Within One – Three Working Days. Please View Estimated Delivery Time During Checkout.
---
MATCHA FAQ
---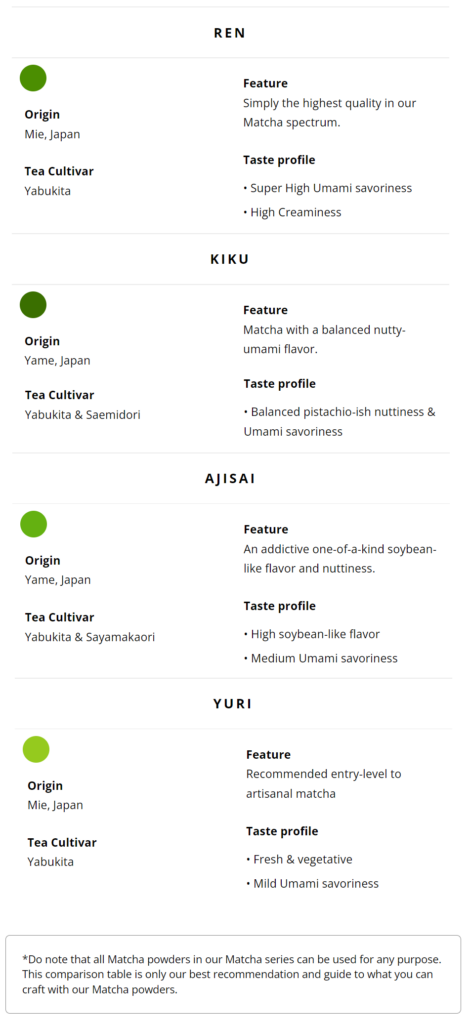 ---
---
---
MATCHA FAQ
How can I tell if it's high quality Matcha powder?
High quality Matcha powder will have a vibrant green colour, while low quality Matcha has a dull yellowish colour. Any Matcha powder that you purchase from us is always guaranteed to be the highest quality Matcha powder you can get in the market.
Does Matcha contain caffeine?
Matcha generally contains one-third the amount of caffeine in coffee. For those who are looking for alternatives to coffee with less caffeine, try drinking matcha!
How many cups of Matcha should I drink a day?
It is recommended to drink not more than 3 cups a day.
Can I use a spoon to mix?
It is not recommend to use a spoon as matcha powder will not be mixed evenly. To ensure the matcha powder is completely mixed in the liquid, please use the proper tea tools such as a bamboo whisk or electric mixer.
---