REN / Matcha Powder
RM15.00 – RM589.00
---
Artisan Green Tea Powder
REN exudes the definition of a timeless masterpiece. Crafted with Yabukita cultivar, REN is highly regarded as the utmost exceptional Ceremonial Class Matcha powder in our selection.
Savour this multi-dimensional, brothy umami flavour that promises a subliminally luxurious mouthfeel. Transforming from a creamy umami flourish to a clean and supple finish, this critically acclaimed experience is truly the first of its kind.
---
---
---
Best For
---
Thick Tea (Koicha)
Light Tea (Usucha)
Latte
---
---
---
Origin
Mie, Japan
Tea Cultivar
Yabukita
---
---
---
Taste Profile
Umami Savoriness
---
Creaminess
---
Clean aftertaste
---
Click to Compare Matcha Series
---
---
---
Client Reviews
★★★★★
"vibrantly green and jam packed with umami, both signs of the best quality matcha."   –   Xingweird
★★★★★
 "REN the umami-ness is absolute on point 10/10."   –   Shiman Sim
★★★★★
"REN Matcha totally blew my mind towards my past matcha experience."    –   Pam Poon
---
---
---
Niko Neko Iced Matcha Latte recipe
---
---
---
---
SHIPPING
Peninsular Malaysia: RM10
East Malaysia: Price shown at checkout
International Shipping: Price shown at checkout
FREE in-store pickup
Choose FREE in-store pickup at Niko Neko / The Concept Store (Bangsar or Chinatown) during Checkout
---
---
---
FREE GIFT
---
Receive Limited Edition Gift with each order:
1. Special Recipe Card
2. Niko Neko Stickers
*while stock lasts
---
---
---
FOR BUSINESS USE?
Whatsapp Us Now For Wholesale Pricing
(Click Button Below)
Click button below and it will take you directly to your smartphone's Whatsapp:
---
---
---
Order
Online Order (Click Button Below)
Order Processed & Shipped Out From Facility Within One – Three Working Days. Please View Estimated Delivery Time During Checkout.
MATCHA FAQ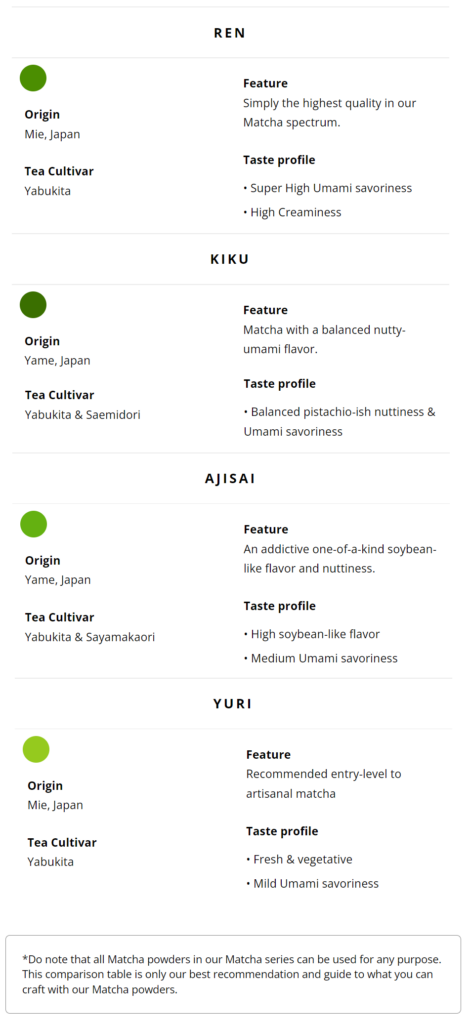 ---
---
MATCHA FAQ
How can I tell if it's high quality Matcha powder?
High quality Matcha powder will have a vibrant green colour, while low quality Matcha has a dull yellowish colour. Any Matcha powder that you purchase from us is always guaranteed to be the highest quality Matcha powder you can get in the market.
Does Matcha contain caffeine?
Matcha generally contains one-third the amount of caffeine in coffee. For those who are looking for alternatives to coffee with less caffeine, try drinking matcha!
How many cups of Matcha should I drink a day?
It is recommended to drink not more than 3 cups a day.
Can I use a spoon to mix?
It is not recommend to use a spoon as matcha powder will not be mixed evenly. To ensure the matcha powder is completely mixed evenly in the liquid, please use the proper tea tools such as a bamboo whisk or electric mixer.
---