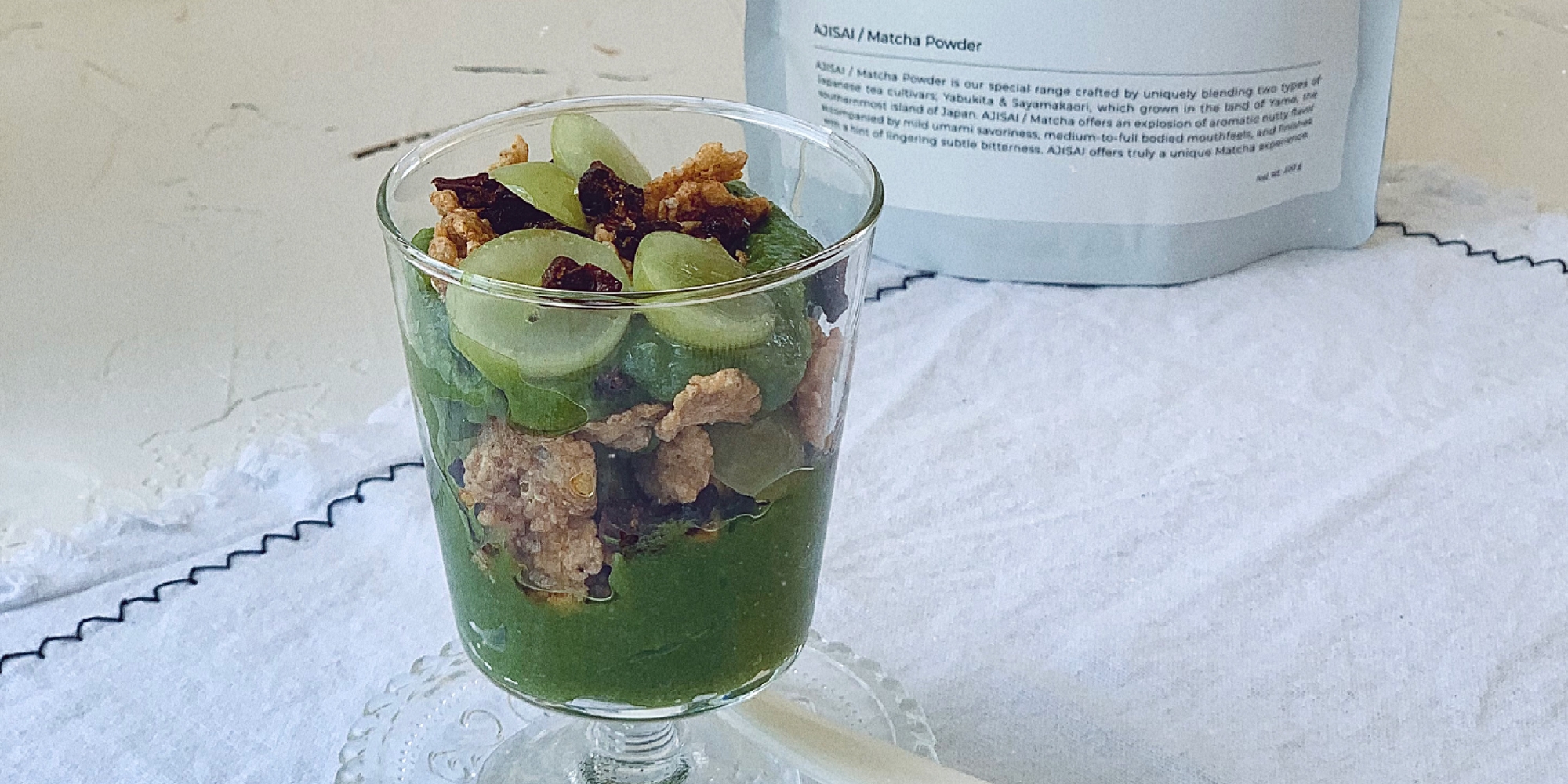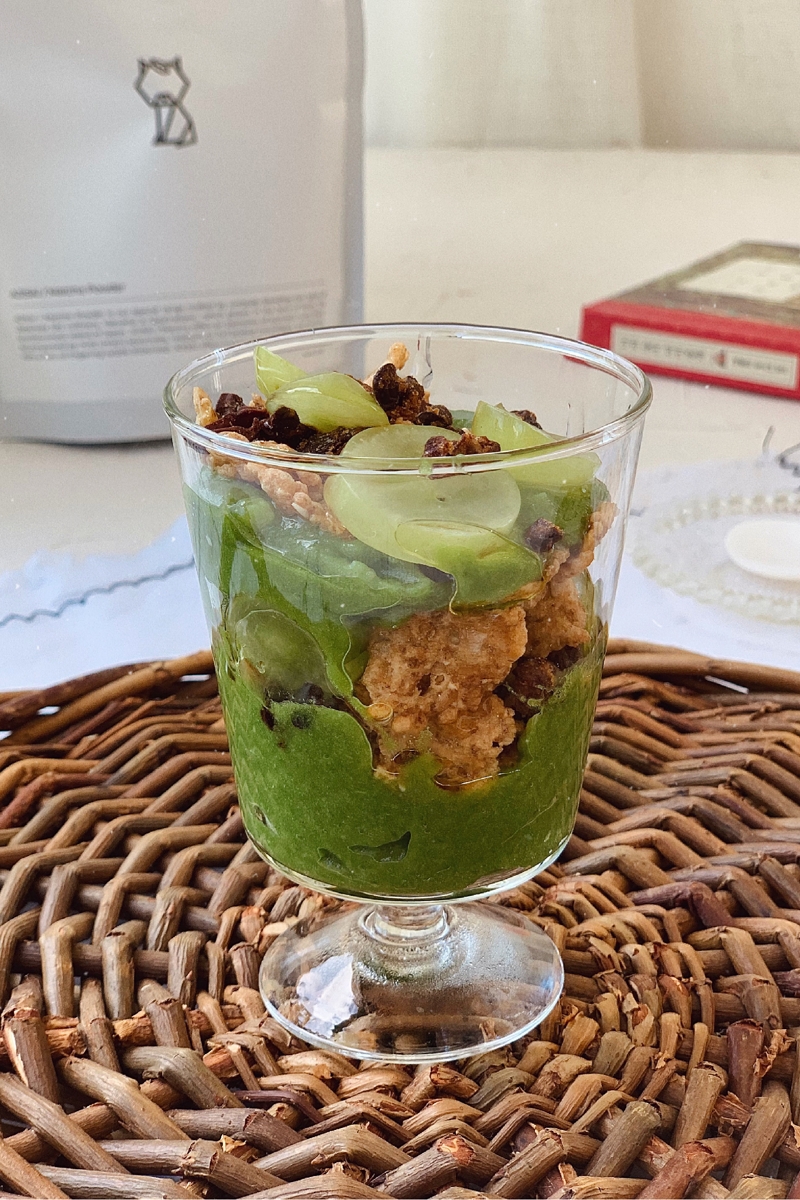 Matcha Chinese Yam Parfait
GREATESCAPE_V
x
NIKO NEKO
Working in the food industry, Evonne is no stranger to the delicious range of savoury, sweet desserts and her instagram @greatescape_v is proof. Passionate in baking since young, cooking up mouth-watering dishes is her regular self-care activity now. Her recipes are classic, bursting with flavours and depth, always adding a special touch. Check out her specially-crafted series One Day Meals: from the matcha spread on your morning toasties to the café-style matcha dishes with a slight twist on a popular dessert for after dinner.
"It is the feeling of satisfaction after seeing the result of my hard work that gets me."
Evonne / @greatescape_v
Instagram: greatescape_v
---
INTERVIEW WITH @greatescape_v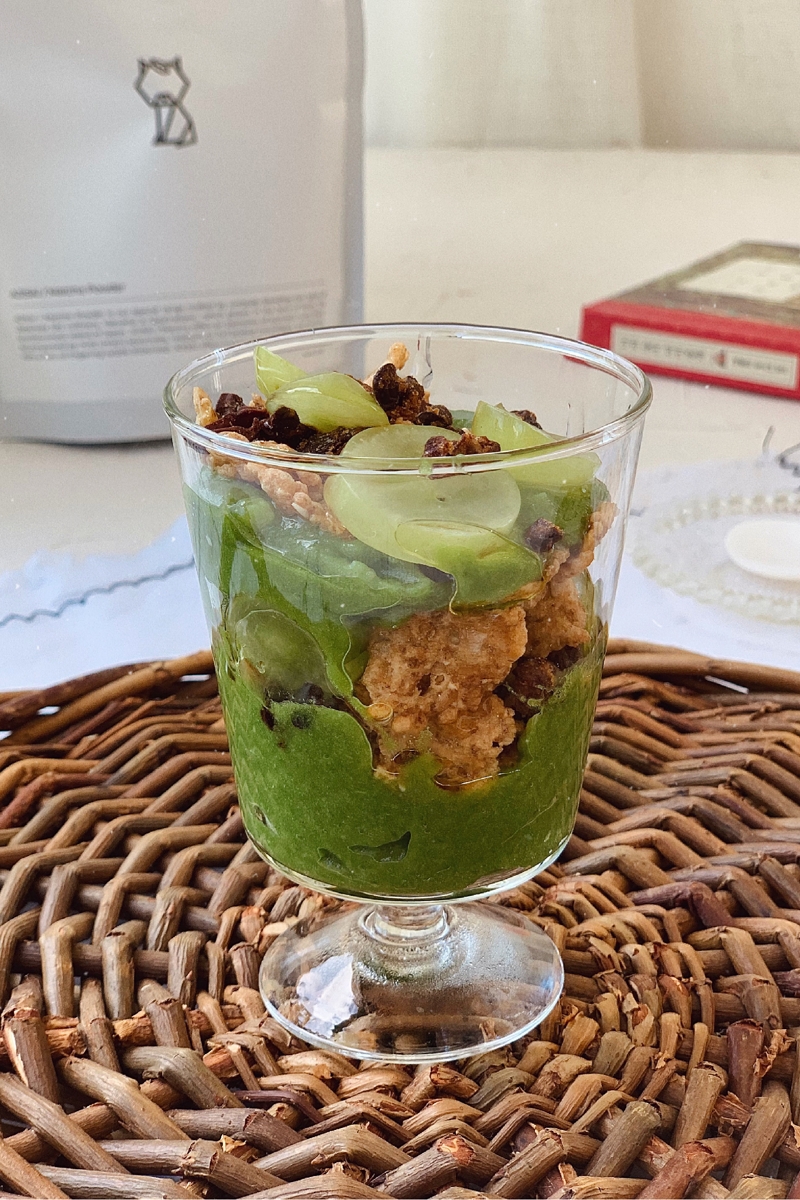 The mix of savoury and sweet dishes in your Instagram looks stunning! When did your passion for food begin?
I grew up surrounded by many varieties of food as my family and relatives work in the food industry. My favourite memory is when my dad would bring me to the international food trade exhibitions and visit the production plants whenever he had an overseas business trip. I also enjoy watching cooking shows since I was young, it inspired me to craft things with my own hands. It is the feeling of satisfaction after seeing the result of my hard work that gets me.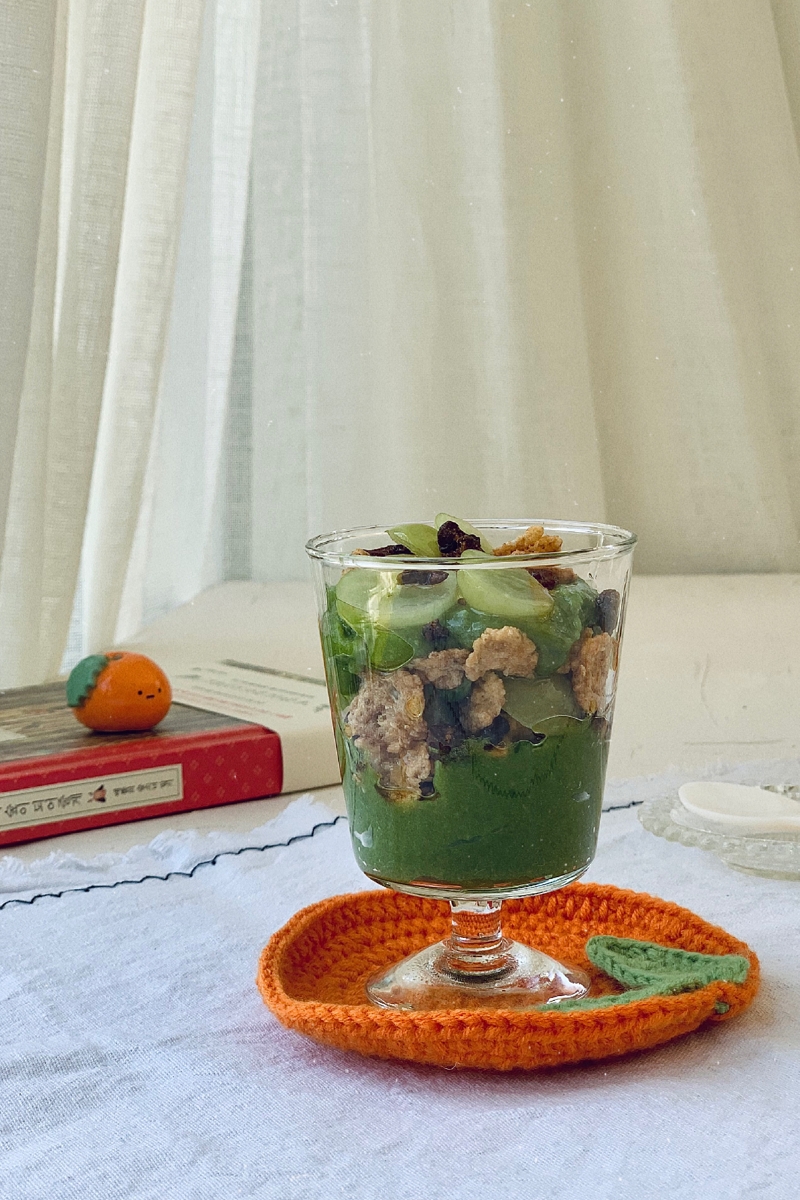 What's your biggest challenge in creating these mouth-watering recipes?
Usually, I would draw and write down the ideas before making any dishes. However, sometimes the food may not turn out like how I wanted it to taste or look. Even so, I learned to keep trying and not give up. Eventually, it will turn out amazing!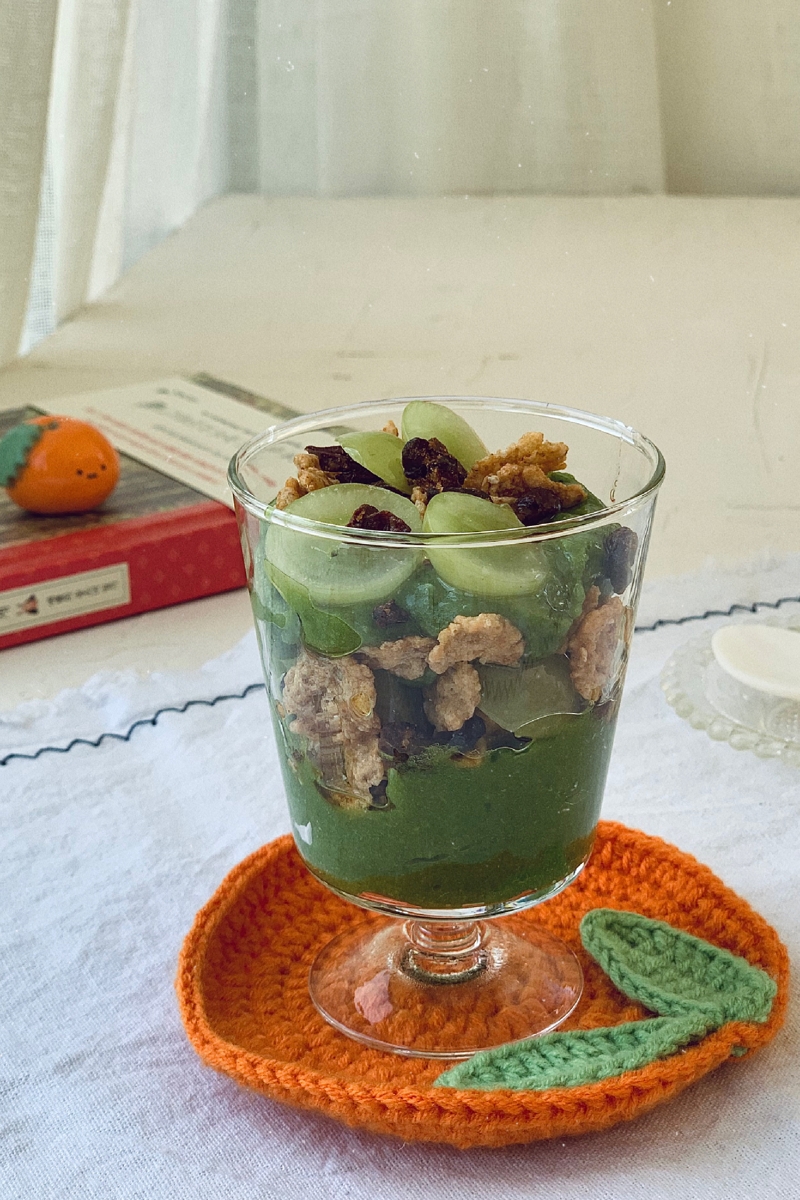 Personal tips for your recipe viewers when working with Matcha recipes.
It was my first time experiencing different types of matcha powder. naturally, it took me a long time to understand and distinguish the differences. Each and every one has it's own distinct flavour profile. You definitely have to try them all as everyone has their own preferences of taste.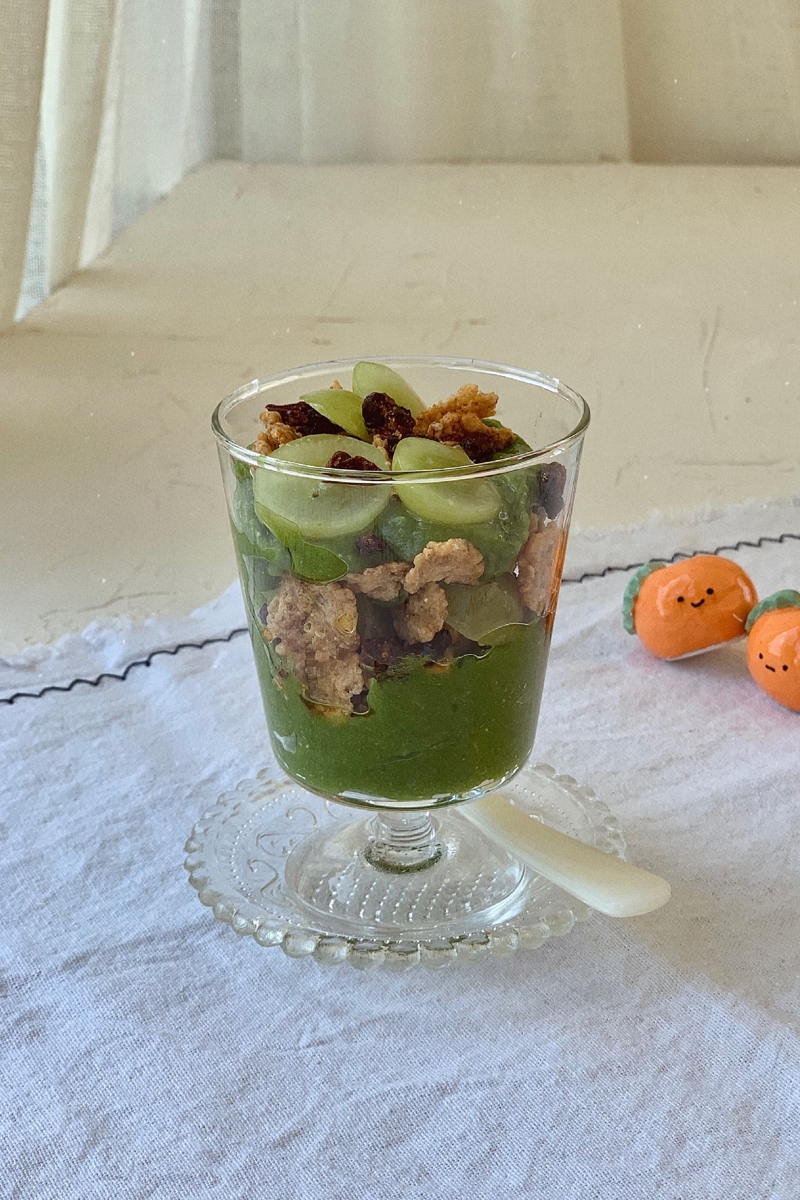 What is your inspiration for Matcha Chinese Yam Parfait recipe?
I've been quite busy at work that I have to skip meals sometimes. But no matter how busy I am, I will not forego my breakfast. This is a super easy and quick breakfast to get your day started. It has lots of health benefits, and because it is high in fibre, just a cup of parfait can help you feel full longer.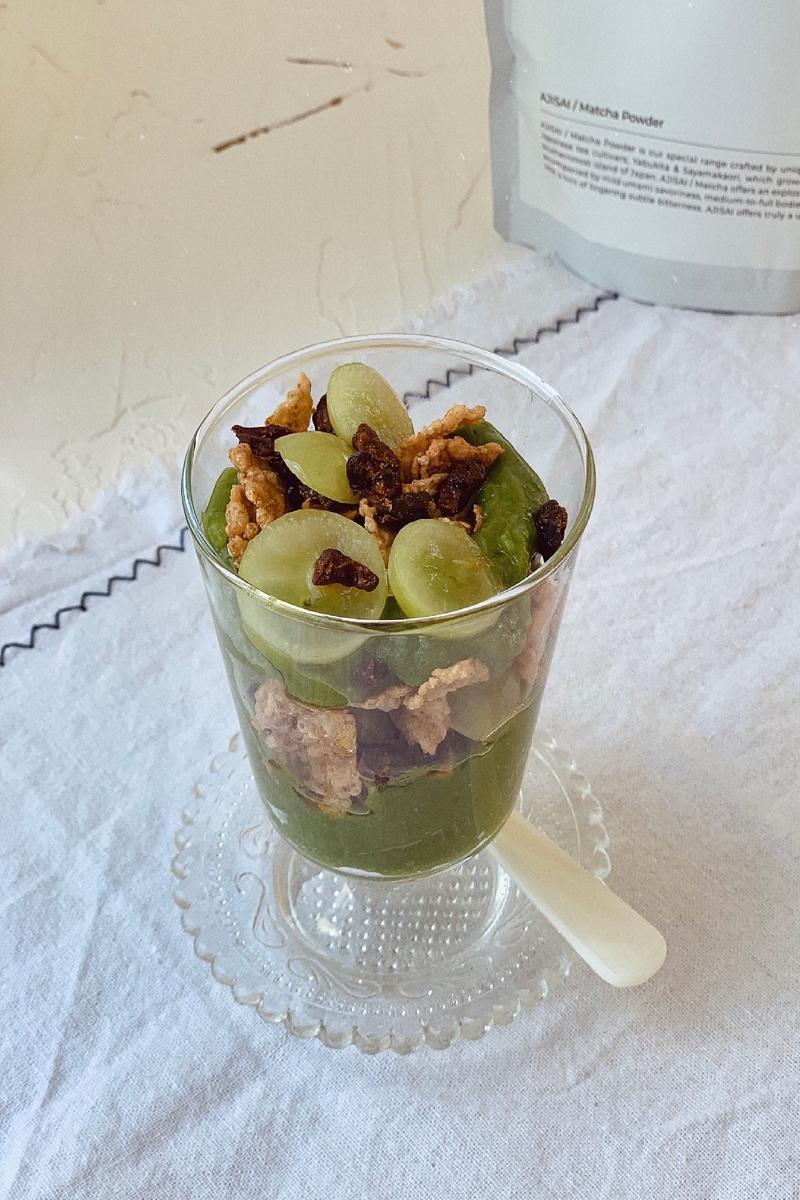 How did you find using AJISAI / Matcha in your recipe?
Unlike other yams or the usual yoghurt, Chinese yam is not very sweet and doesn't have a strong taste. You could clearly taste the soy-umami flavour of
AJISAI / Matcha
when mixing both ingredients. It's a very nutritious breakfast option.
---
Matcha Chinese Yam Parfait
BY @greatescape_v
---
Serves 1 parfait
Prep time: 10 min
Total time: 10 min
100g Chinese Yam
½ tsp AJISAI / Matcha powder (sieved)
20g Honey
20g Cold Water
Toppings
Cornflakes/Granola/Muesli
Green grapes (or your choice of fruits)
Nuts
---
Clean and cut the Chinese Yam into small pieces. Then, microwave for 2 mins (You may take it out during the intervals and mash it with a fork so that it will blend easily when using the blender later).
Add AJISAI / Matcha powder, some honey, and water to the softened Chinese Yam. Then, mix with a hand blender until the mixture is well combined and reaches a yoghurt-like consistency (If the mixture is still too warm, you may leave it at room temperature for a few minutes to cool down before assemble).
To assemble the parfait, fill the cold glass with a layer of Matcha Chinese Yam then followed by cornflakes / granola / muesli, fruits, nuts and drizzle some honey. Repeat layers until the glass is full.
---
SHOP AJISAI / MATCHA POWDER HERE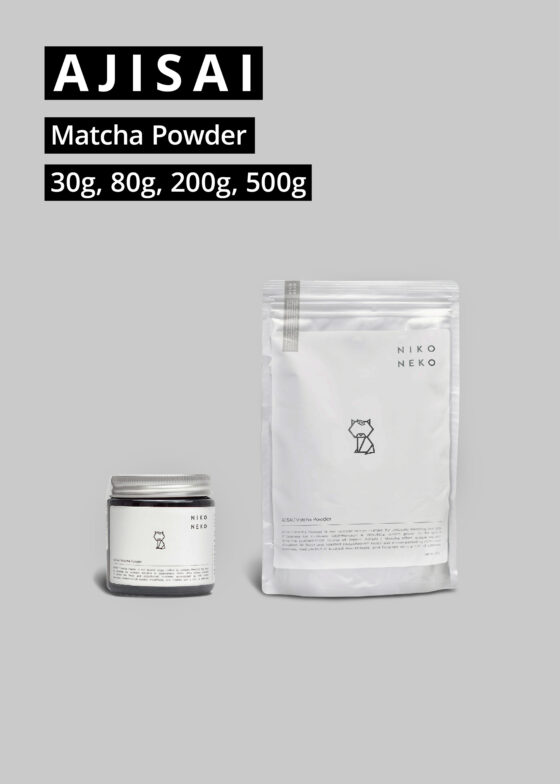 Start Making Your Matcha Chinese Yam Parfait With AJISAI / Matcha Today.