THE ESSENTIAL / REN Luxury Box Set (SOLD OUT)
RM269.00
---
"The Only Matcha Tea Ceremony Set You Need To Kick-Off Your Personal Matcha Journey."
REN / Matcha included in this Set will boost your mental focus and keep your mind calm throughout the day.
---




---
SET INCLUDES
REN / Matcha Powder (30g)
ASAGAO / Exotic Purple Bamboo Chasen Whisk
SUMIRE / Exotic Purple Bamboo Chashaku Scoop
in our Exclusive The Essential Set Box
---




---
---
Client Reviews
★★★★★
"vibrantly green and jam packed with umami, both signs of the best quality matcha."   –   Xingweird
★★★★★
 "REN the umami-ness is absolute on point 10/10."   –   Shiman Sim
★★★★★
"REN Matcha totally blew my mind towards my past matcha experience."    –   Pam Poon
---




---
---
SHIPPING
Peninsular Malaysia: RM8
East Malaysia: RM14
International Shipping: Price shown at checkout
Free Shipping
Within Malaysia for total order above RM130
or
Choose FREE in-store pickup at Niko Neko / The Concept Store 2.0,
Chinatown, Kuala Lumpur during Checkout
---
---
---
FREE GIFT
---
Receive Limited Edition Gift on each order:

1. Special Recipe Card
2. Niko Neko Stickers
*while stock lasts
---
---
---
ORDER
---
Online Order (Click Button Below)
Order Processed & Shipped Out From Facility Within One – Three Working Days. Please View Estimated Delivery Time During Checkout.

Out of stock
FAQ
---
REN / Matcha Powder
What is the difference between Matcha and green tea?
Matcha is the powdered form of green tea. When drinking Matcha, you are drinking the whole tea leaves ground to fine delicate powder. Whereas green tea is brewed by steeping tea leaves in water.
How can I tell if it's high quality Matcha powder?
High quality Matcha powder will have a vibrant green colour, while low quality Matcha has a dull yellowish colour. Any Matcha powder that you purchase from us is always guaranteed to be the highest quality Matcha powder you can get in the market.
What is the difference between REN, KIKU and YURI / Matcha Powder?
Click on the Matcha Series Guide below for full description of each Matcha powder: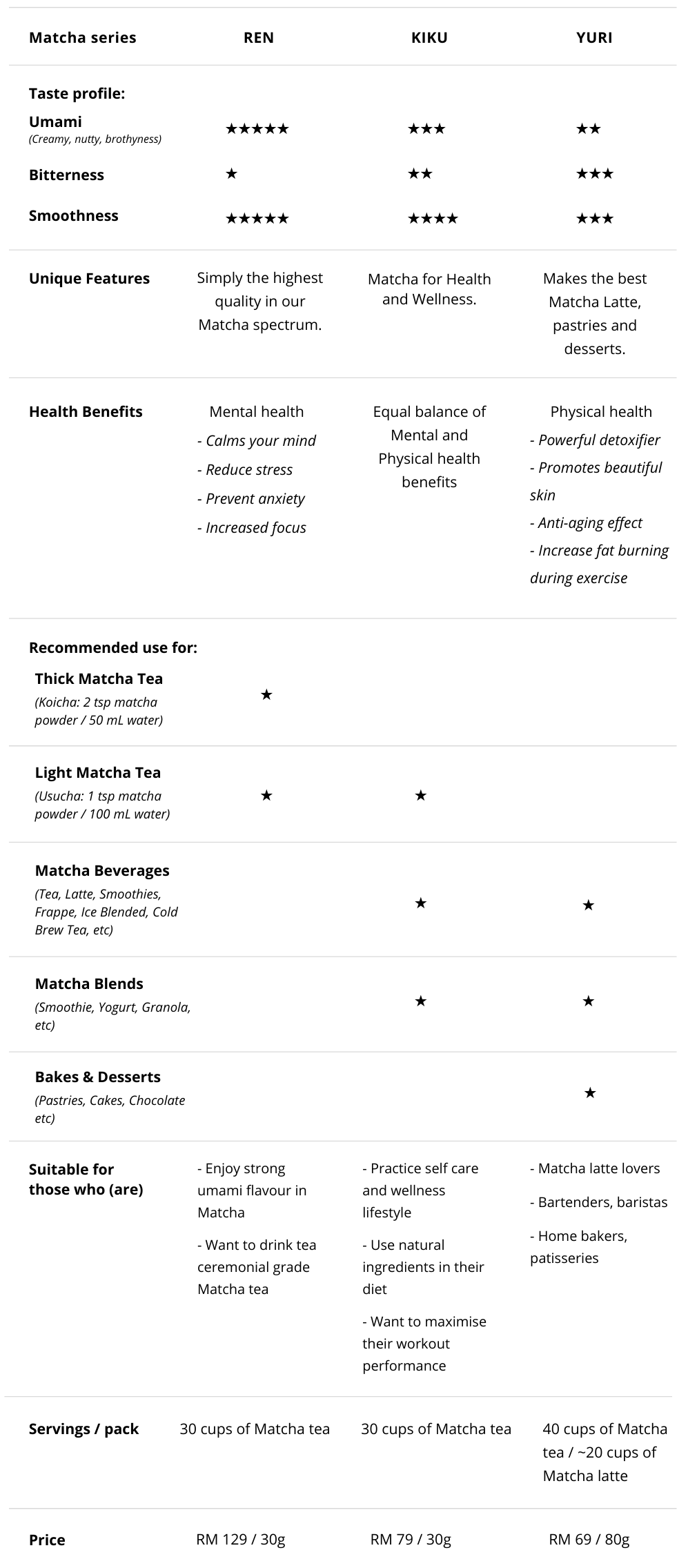 Does Matcha contain caffeine?
Matcha generally contains one-third the amount of caffeine in coffee. For those who are looking for alternatives to coffee with less caffeine, try drinking matcha!
How long can I keep REN / Matcha powder for?
Once opened, it is best to consume within 2 months, when REN / Matcha Powder is in its freshest condition. However, it can last for about 1 year if it's kept properly. Store in the refrigerator before and after opening. Always seal tight and keep away from light, heat, air and moisture to avoid oxidation.
Can I store it in a separate container?
If you want to store it in a separate container, choose a small non-transparent and air-tight tupperware. You may also use a proper tea canister.
How many cups of Matcha should I drink a day?
It is recommended to drink not more than 3 cups a day.
Can I drink REN / Matcha cold or hot?
REN / Matcha can be served both cold or warm, both versions taste equally amazing! To prepare warm tea, please use 75'C warm water (not boiling water) in order to bring out the natural flavours of REN / Matcha (If you use boiling water, it will burn the Matcha and extract more bitterness flavour).
Is Matcha safe to drink for pregnant women?
Yes, Matcha is suitable for pregnant women because it has lower caffeine level compared to coffee, along with many health benefits.
Does REN / Matcha Powder contain sugar?
No, there is no sugar added to REN / Matcha powder. If you prefer a sweeter flavour, you can add sugar or honey to your Matcha tea or latte.
---
---
---
ASAGAO / Chasen
What is ASAGAO / Chasen made of?
Each of our ASAGAO / Chasen is handmade by professional craftsmen from a single piece of exotic purple bamboo, then laser-engraved on the handle with our Niko Neko logo.
How do I whisk Matcha with a chasen?
When whisking Matcha with a chasen, first, start off with a slow, circular pattern to loosen up any powder stuck on the bottom or sides of the cup. Once the large clumps are mixed in, whisk vigorously in a W-shape motion.
We recommend whisking your Matcha in 50-75 mL of your choice of liquid (water or milk) for easier whisking.
How long does it take to whisk Matcha using Chasen?
It takes only 10 seconds for the Matcha powder to dissolve. Using ASAGAO / Chasen will ensure a creamy smooth foam on top of your Matcha tea or latte.
How should I wash the chasen after use?
Wipe the chasen tips gently with soap and rinse under running water with hand after use. Pat dry with towel and leave in open air to dry.
How do I store the chasen after use?
After washing your chasen, make sure it is completely dry before storing it away. You may store it in a plastic container or ideally on a whisk holder to keep its shape. If it is not kept in a dry area, mold may start to grow.
How long can the chasen last?
If you prepare Matcha once a day using the chasen, it should last around one year. To prolong the life of your chasen, make sure you follow our tips on how to wash and store your chasen.
My chasen tips have loosened. Can I still use it?
Yes, you can still use it. After a few uses, the tips will straighten out and bend inwards. This is to be expected. To reshape chasen, dip your finger between outer tips and inner tips, then gently bend the outer tips outwards.
What is the difference if I use ASAGAO / Chasen instead of YUKIWA / Hand Mixer?
Using ASAGAO / Chasen is the traditional method of whisking tea, whereas using YUKIWA / Matcha Mixer allows you to mix Matcha simply with a press of a button. With the right technique, whisking Matcha with ASAGAO / Chasen will result in finer and creamier texture foam as compared to YUKIWA / Matcha Mixer.
If you love the traditional method of whisking tea in Japanese Tea Ceremony, we definitely recommend you to purchase ASAGAO / Chasen together with SUMIRE / Scoop!
---